Review of Woodland Group Open Morning
 to
Old Landscore School, Threshers, Crediton EX17 3JH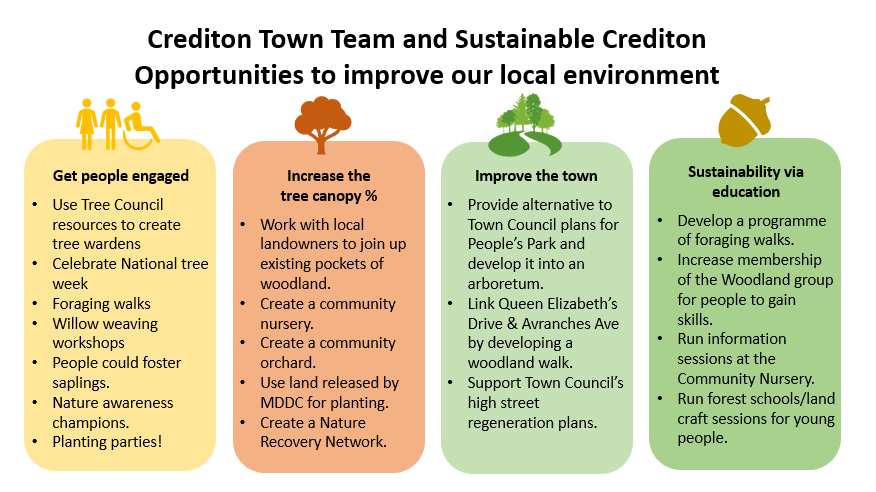 Notes from Event
Attendees:
John Downes
Robin Deitch
Lucy Deitch
Samantha Shaw
Karen With
Wendy Vere
Terry Hadley
Jess Gower
Pete Corthorn
John Turner
Charles Mossman
Eve Malster
Dave Dann
Pete Mason
Abi Hindriks
Peter Jones
Dee Ross
John Ross
Sustainable Crediton Woodland Group
The group is well established, having started up 7 years ago with a 'wood fuel from hedgerows' event. The original purpose of the group was to get wood for burning, get fresh air and encourage traditional land based skills. The group now has 7-8 regulars who meet between Oct-Mar (generally on a Monday, but could be flexible).
They have an agreement with the landowner of Moor Farm that they will work in exchange for firewood. Participants are insured by Sustainable Crediton as long as they are a member. Previously they obtained a grant to train people to use chainsaws, but are planning to seek new funding for refresher training.
Specific Wood Group ideas and actions
Wendy would like the woodland joined up to form wildlife corridors and identified a field area for planting
She encouraged us to dig up tree plants from the forest floor for replanting
she was keen on more effective ways to keep deer, squirrels and rabbits off plants
Black Hawk would be used more for log pulling on higher ridges
There was a consensus that we needed to have some weekend groups and special days to attract people who can't do weekdays
There was some talk about doing something with the river creating ponds?
Peter Jones the adjacent woodland owner was keen to show us around his commercial enterprise
Wendy and Peter said there is an overgrown hedge in a field connecting their woods that could be hedge laid
It was recognised that the Woodgroup members had considerable knowledge and experience of tree planting, maintenance and management
Dee was keen for us to look at working closely with pollinator group. With potential for land share
Car shares could be arranged to get people up to the Moor Farm site
It was agreed that we would have a display stand at the seed share I n February, Wendy would do the boards to promote our work
Pete and Dave would work on some flyers to promote the group at the seed sharethat would include some simple steps to tree planting
It was clear that there was an appetite for broadening the woodland work to include planting, nurturing, protecting, foraging, etc
Dave was keen to run instruction days including tree planting, fruit trees, etc
The wood group should offer advice to help with Crediton Town plans and promote the development of woodlands and hedgerows
Review current chainsaw certification, determine if refresher training is needed and raise funds to pay for or subsidise this training.
Moor Farm
300 acre organic dairy farm includes what was an overgrown woodland, which was of limited use for wildlife. Once the woodland was made accessible by a commercial forestry firm, the labour to improve the woodland has come from the Woodland Group. Their work has seen bluebells and butterflies increase and dormice love to live in the tubes of the trees!

Wendy's vision is to join this piece of woodland on to a nearby wood - they have plenty of saplings from the original woodland, but need people power. There must be a minimum of 3 people working together at any time for safety reasons as there is no mobile phone coverage.

They have a charcoal burner which could provide education for people interested in using it.
Wendy runs a forest school for children under 5 on the site - they camp under a parachute and learn new skills (not necessarily woodland-based - it could be team work etc).
They have trained a colt, black Hawk, to pull logs in order to reduce damage to the forest floor, which is very sloped.
What else can we do?
Dave Dann sowed the seeds of new ideas and pointed out that trees are now political, with parties vying with each other to plant more. Tree planting is easy - why aren't we doing more of it? However, there is no emphasis being placed on sustainability and management - Sam Shaw has talked to DCC who are very averse to planting that will create work for them.
Woodlands in the past were a commercial resource and we can view trees as crops. They are part of people's lives:
Psychology
Food
Building materials
Climate change
Fun fact - mice eat hazelnuts, but they are also great planters; even if it is in the wrong place!
Forestry England has a 25 year plan.
Willows and Wetlands Centre is a great place to visit (makes willow coffins among other things). Willow does well in Devon and makes good kindling/firewood and charcoal. March is the traditional month for cutting.
Brambles are useful - they act as tree guards for windy weather and keep the deer off.
General Ideas
Community tree nursery in Crediton. With the publicity from government about planting, nurseries will be running out of trees. Would need flat land, accessible, safe from vandalism with water. Electric would be helpful as well as a shelter for volunteers. Effectively like an allotment. Trees must be planted when small - the roots don't recover if disturbed when larger. Skill leadership required. We could offer people access to the trees for planting on a cooperative basis - they could foster saplings. People could bring seeds/saplings and take away potted trees to nurture. We could have a formal area + bits subbed out to allotments.
Sustainable Crediton pollinator group is looking into sourcing pockets of land for planting within Crediton.
People could adopt a tree - we need to get more people involved in caring for trees.
People's Park - the Town Council has commissioned a tree surgeon who has recommended that the trees need to be better managed. We need more creative advice than the ideas he has offered on how to regenerate the space. Could this be an arboretum? John Ross is keen to present an alternative plan to the Town Council.
Could we create a woodland walk between Queen Elizabeth Drive and Avranches Ave housing estates? The underdeveloped footpath offers great views. Possibly also a community orchard? Unclear who owns the land.
Prep now for 2020 national tree week (Nov)
Prep now for International World Day (end April) 50th Anniversary - 22/4/20
Wood walks with foraging and campfire cookery
Potential for general public to plant trees for birthdays, memorials etc
Nature or tree wardens in each street
Community gardening to help less abled people maintain their gardens
Newly planted trees will require ongoing maintenance
Engage with Newton St Cyres Aboretum, perhaps via Eddy who volunteers there.
Find out more about the Clyst Valley Project.
Last updated on by John Craythorne