to
The Boniface Centre Church Lane Crediton EX17 2AH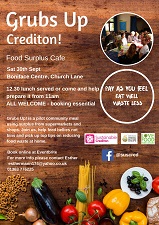 Grubs Up! is a pilot community meal using surplus food donated by local shops, cafes and supermarkets.
Please join us for a free lunch. Help feed bellies not bins and pick up top tips on reducing food waste at home
You are invited to share this free lunch as a supporter of Waste Action Group events, or your involvment with Sustainable Crediton. Click on the link via the poster to book.
If you have the time, we will welcome help with food preparation and clearing up. Please contact Esther Mann, details in the column on the right.